Friday, December 22, 2006
Wednesday, December 06, 2006
(Sometimes life just isn't a nice thing.

I hate Pitchfork, but I have taken this off of their website as it is very nice and well-written. If you don't know who Logan is, I hope you take the time to find out.)

We are saddened to report that
Logan Whitehurst
, former drummer for much-loved California trio
the Velvet Teen
, passed away yesterday from brain cancer. He was 29.Whitehurst co-founded the Velvet Teen with Little Tin Frog bandmate Judah Nagler around the turn of the century, and played on the band's early EPs and two full-lengths-- 2002's Out of the Fierce Parade and 2004's Elysium, both released via Portland imprint
Slowdance Records
. Whitehurst exited the band after Elysium, and the Velvet Teen welcomed new drummer Casey Deitz for this year's Cum Laude."Logan was an incredibly special and endlessly gifted person," wrote Slowdance Records owner Ezra Caraeff on the label website."Possibly the most grounded and mature person I have ever met, Logan also had the pure joy of a child, always approaching life with a[n] inspiring sense of optimism, despite how downright unfair (my words, never his) things can become. I speak for everyone involved with this label, its bands and those associated with us, when I say that Logan will be missed terribly...If you ever were lucky enough to meet him, you'll know why I am saying these things."Friends and fans expressed similar sentiments on the Velvet Teen's
MySpace page
, as well as that of Whitehurst's solo project,
Logan Whitehurst & the Junior Science Club
.Logan battled brain cancer for some time-- successfully it seemed-- until it returned in August of this year. "According to my doctor and a recent brain-and-spine scan, I have had a hell of a recurrence of brain cancer," wrote Logan in a profoundly sad MySpace blog entry dated August 30, 2006."My doctor is fairly well convinced that this will kill me within the year. Sucks to be me right now. I will do what I can to get the Very Tiny Songs album out on Pandacide Records, but it looks like it will honestly be my very last release. Thank you all-- I love you for being there for me."We offer our deepest condolences to family, friends, fans, and all whose lives were touched by Logan.
Posted by Matthew Solarski on 12/4/06
Posted by

Celia
at 12:11 PM
1 comment:

Friday, December 01, 2006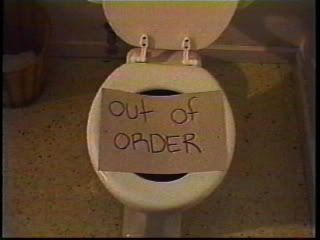 See you in your nightmares...beh heh heh.
I'm really getting sick of having dreams about going to the bathroom. It's always the same: I'm in a public bathroom, and the stalls have no doors. There are either rows of toilets side by side, groups of pay-toilets out in the open, or bathrooms whose doors I just can't keep closed. Seeing as I have this dream at least once per week, I decided to look up its meaning. According to
www.dreammoods.com
, it can be interpreted thusly:
The notion that you are naked and in a public washroom indicates that you need to express and/or release the emotions, worries and fears that you have kept inside. Being naked makes your feel vulnerable and exposed. This may be how you feel if you were to express yourself. You are BEARING your soul. Note that bear is a pun on bare. You truly feel naked if you were to "bare" your soul. You fear that you might be judged or criticized by everyone around you.?The feeling that the bathroom stalls are too small suggests that you are trying desperately to keep these emotions to yourself. However, people around you sense that something is wrong. They can see right through the doorless stalls as you try in vain to discretely relieve yourself. You need to learn to let people in and trust that they will accept you for who you are?
I'm not generally "naked" in the dreams persay, but I certainly am aware that I'm out in the open (although the "naked in public" dreams are becoming quite pervasive in my sleep as well...) I've never been too confident in supposed interpretations of dreams, but I'm not sure why this dream keeps popping back up again. Maybe I just really hating using public lavatories. That's probably what it is.
Do you have any persistently recurring dreams?
Posted by

Celia
at 12:36 PM
3 comments: