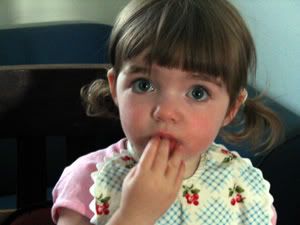 "You mean people will think I'm a dork if my hair
looks this way in 20 years????"
I asked the husband the other day why I rarely see adults wearing pigtails. He reasoned that pigtails are a style historically worn by children, and generally are only worn by adults for fashion reasons. Adults generally morph the pigtail style of youth into the ponytail style of maturity.
I wear pigtails about 75% of the time. Not because I think it is fashionable or cute, but because it takes a short amount of time to do. I would love to wear a ponytail like most reasonable adult women, but I can't. It looks terrible. Why? My head is huge.
So if you're wondering why I wear pigtails, it's because my massive head requires two ponytails instead of one to compensate for its size.