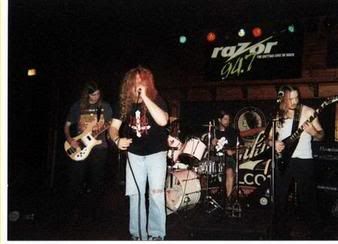 This is mostly for you little lovelies that live in the Fox Cities...
My brother and company are in a new band called Razor Fist. They have a
MySpace page
you should check out if you get the chance. There are a couple of rough demos there to listen to, although they are currently recording (if they haven't already finished) their actual album with the one and only Justin Perkins. I heard a bit of it over Christmas and I must say it sounds pretty awesome. This band is a lot more straight-up metal than Hill of the Dead or THC were (think Iron Maiden or Judas Priest). They've got a few shows coming up in Appleton and Oshkosh, so if any of you Fox Cities chitlins feel so inclined you should really check them out live. (RJ, I think you'd dig them alot!)
P.S. My brother did not put me up to this, I just really wanted to let you all know about them because when me and Ryan saw them (their first show ever, mind you) they were incredibly entertaining. The guitar player is writing a rock opera!!!!