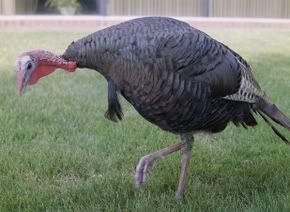 And so comes Thanksgiving, the day where we slaughter and eat the majestic bird that is the turkey in obscene quantities. I have little to say on the subject, being a vegetarian myself, so let me instead share this enlightening conversation I had with my workplace janitor about a week ago. Feel free to reenact this scene with a trusted friend or neighbor.
Me: (sitting at my desk, quietly reading)

Janitor: So, you read those Harry Potter books?
Me: Yes, I guess I do.

Janitor: Those book are LONG! Like a thousand pages or so, right?
Me: (flipping through book) Erm, this one is about 700 I think.

Janitor: Wow! That little dude must be pretty rich!
Me: (astounded) I suppose he must be...?

Janitor: There are 12 books now right?
Me: There are 6 out right now.
Janitor: But there will be 12?
Me: Seven. One for each year he is in school.

Janitor: (knowledgeably)He retains all the rights to those books, doesn't he?
Me: (confused)Who?

Janitor: Harry Potter!
Me: (slyly)Um, no I don't think so. I'm fairly certain he's a fictional wizard.
Janitor: (confidently)No, I'm pretty sure he wrote those books.
Me: (kindly)Well, it says on the cover here J.K. Rowling. If my memory serves me correctly, that's a woman.

Janitor: A woman wrote those books? Hmm. I don't know about that.
Me: (not wanting to sound like a know-it-all) I could be wrong, I guess.

Janitor: Doesn't matter. I'll never read them anyway. (walks away)
End Scene.
Happy Thanksgiving!