Welcome to the welfare office!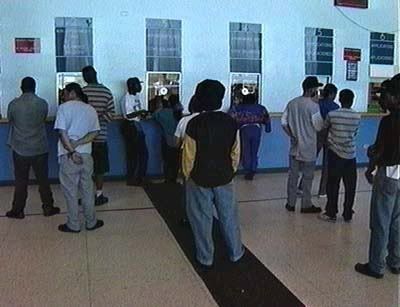 (I don't actually work in this particular office. In my office, we don't have the luxury of being behind glass.)
This is why my job sucks THIS WEEK:
1. One of my coworkers has been out for 5 days. No one knows why. My supervisor has been trying to reach her at home all week, but no one has answered. Rumor has it, this coworker likes to call in sick and then visit her sister in California. I'm not going to make assumptions, but I think that this coworker is making an "ass" out of "u" and "me."
2. Because this coworker is gone, I had to cover for her on Wednesday. I had to sit in the lobby and hand out mail to the homeless people--this is not the bad part. The bad part is, I had to witness a five year old girl vomit all over our lobby. She was the friend of one of our client's daughter. The client came up to me and said, "She ate an entire can of vienna sausages before she came here." Lovely. It looked like the ham dip my husband used to be fond of, and it was 5 feet away from me. The little girl was vomiting as she walked, leaving a trail of pink goo everywhere she went. She couldn't even tell anyone her name because she would throw up whenever she opened her mouth.
3. One of our LTE's had to hand out the homeless mail yesterday. A client came up to her and demanded to have his mail; he did not have his ID with him. The LTE informed him that EVERYONE must have a photo ID to pick up mail. He turned his neck to her and showed her a tattoo of his name on his neck. "This is my ID," he said. This all ocurred while my supervisor was standing mere inches away. The LTE said, "I don't care what you have on your neck. Without a photo ID, you're not getting any mail." He mumbled something about never having to show anyone ELSE his ID and walked out. My supervisor didn't say a word--she's really not very useful.
4. Yesterday, the LTE and I had to deliver paper to the numerous printers in our building. This responsibility used to belong to an employee that is no longer working with us. My supervisor forgot to assign this duty to anyone else; she did not notice until every printer was completely out of paper. Each box weighs over 50 pounds. There were 60 boxes. My back is very sore today.
5. In the back room, we have two baskets that people put documentation in that needs to be scanned. One is labeled "New Intakes", the other "Additional Documentation." These are two very different things. The LTE found in the Additional Documentation basket about 20 folders that were clearly supposed to be in the New Intake basket. When confronted, the worker who put the folders in the basket remarked, "The Intake basket was full, so I put them in the other basket." Who tells people they can just make up their own procedures?
The good news is, I have a job interview on Tuesday. Perhaps the gods will smile on me.