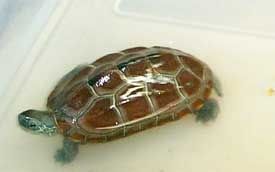 Since I rarely have anything to say anymore, I just thought I'd take a moment to express my love for turtles and tortoises.
Top 10 reasons to love the shelled animals:
They have a house they carry everywhere with them.
They don't really have a "body", just a bunch of goop in a shell.
They can retract into their shell when they're scared...that's really cute.
Tortoises make a little scratching sound when they walk.
Sea turtles have very small babies that cover beaches by the thousands when hatched.
Alligator snapping turtles are living dinosaurs with a cool lure in their mouth.
Tortoises walk so slooooooooow.
Turtles look funny on land, but they swim very nicely when in the water.
They don't really make any noise...just a weird grunt once in a while when eating.
Tortoises don't have teeth so they just sort of gum their food and spit it out repeatedly.
There you have it...10 reasons to like turtles and tortoises. If that doesn't convince you, I don't know what will.