We started moving some stuff over this weekend. Books, bookshelves, treadmill, bins of useless junk...it's now gotten to the point where all the items left at our old apartment are necessities for living. I dread the moment when my clothes will be at one place and our bed at another, or the food at one place and the TV at the other. This will inevitably occur soon. I am already tired of moving.
Moving has left me sour for the time being, but my good friend Erin sent me a link to a webpage that I think is one of the funniest things I've ever seen. Back when I was a sophomore in high school, I had a student teacher in my Spanish class. Lots of people thought he was really sexy, and I guess he was in an underwear model sort of way. Upon getting to know him, I realized he was really a big nerd and therefore did not find him intriguing any longer. When all you have to talk about with a guy is Ninja Scroll, you know it's not going to work out...especially when he thinks Ninja Scroll is good.
Anywho, we all had our class photos taken with the student teacher.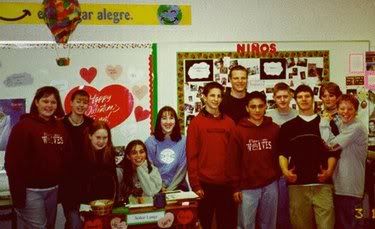 The tall guy in the middle is him, and I'm the little unsmiling lovely second to right.
It's funny to see that he still has all those class pictures up on the internet. It's even funnier to see the link to
his page
that Erin located. You see, we were all right about him being sexy in an underwear model sort of way. In fact, that's pretty much what he is right now. It appears he is also an actor of sorts, in addition to his illustrious teaching career.
Here's a sample from his page:
Yikes! Sort of funny to think that people might be ogling his picture in a magazine and thinking what a major babe he is, when I just remember him as a vaguely amusing, nerdy student teacher with his pants up too high.
Good luck in LA, Mr. Lange!