When I first saw this picture, it really made me mad.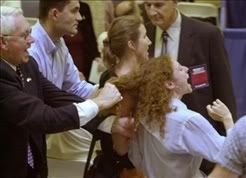 This year, it seems as though protesters against the current president have gotten treated far more harshly than the upstanding citizens who support Bush. It's understandable, considering how all those people who don't support the current US situation must be unpatriotic terrorists who hate our freedom. Or maybe they might just be ordinary citizens who think that we're all being duped...who knows really? As we all likely know by now, I am not a "Bush Backer". In fact, you could go so far as to say that the Bush administration makes me want to vomit on my own shoes...it makes me full of rage...it makes me want to break the signs of Bush-Cheney supporters. But this is why I wouldn't: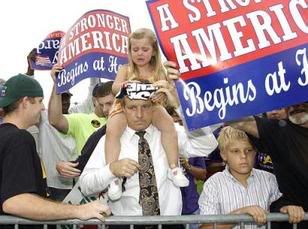 The man in the center is a Bush-Cheney supporter at a Democratic protest. The people around him have broken his sign and are continuing to protest, while the man's daughter cries and holds the remains of the Bush-Cheney sign she held so proudly before.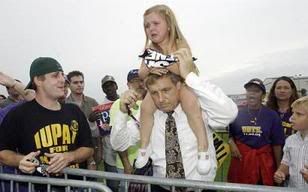 Despite the fact that the gentleman in the photo and I would probably argue at every turn if we discussed politics, I cannot stand the look on his face. It fills we with shame, sadness, and also compassion every single time I try to look at his expression. He brought his daughter out to support Bush because he thinks that what he knows is right...the people around him think they know, too. Everybody thinks they know.
Those pictures show exactly what the problem is with our country. We have a political WAR going on right now that is causing people to turn on each other like angry children. In the country we live in, we should be able to have differing opinions without people EVER having to make
that face.
That man may be a businessman, and supporting Bush might be what's right for his family. Whether that's true or not, he and everyone else should still take a look at what the current administration is doing to its people. Negative campaigning, genuine dishonesty, and stubbornness are making people hate one another. It's making people unhappy. It's making people divided. It's making little girls cry about things they should never have to.
This is the sort of thing we can all do without. I guess my point is, if you want to share your political opinions, please do it respectfully. Breaking each other's signs and pulling hair is exactly what they're trying to get us to do...maybe we should all just take a step back, breathe deeply, and remember that we ARE better than that. I know we have all forgotten, but we used to have REAL pride-not the kind that we are being sold right now. Pride should always come with dignity, and it takes a lot more than an American flag on your lapel to accomplish that.